ABOUT US

---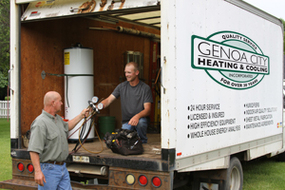 Genoa City Heating & Cooling Inc. has been serving S.E. Wisc. & N.E. ILL. For 3 generations. Our family values continue to bring honest, friendly service, with exceptional quality for all our customers.

Why Choose Us?
Friendly and knowledgeable employees. You can count on our service personnel to provide you with the best solutions, meeting all your comfort needs at a reasonable price. With our honest and highly skilled team, you can rest assured that the job will be done right!

Quality Products!
Not only do we provide quality service, but we also install the most reliable and trusted brands in the HVAC industry. Genoa City Heating & Cooling Inc. is an authorized service and installer for dependable Lennox products. If you are considering the installation of a new furnace or air conditioner, call us today for your free estimate.

24-Hour Service!
We provide 24-hour Live Answering Service, each and every day of the year. Our fleet of trucks and fully qualified personnel are ready to respond to your call at anytime so we can assist you when it matters most.

Great Value!
We provide quality service and products, giving our customers great value at a low price. For your convenience, we also have financing available. Call today for more details.

Comprehensive Solutions!
Whether your comfort concerns are at home or in the office our team of skilled technicians can help meet your needs.

Call today and find out why Genoa City Heating & Cooling Inc. is the most trusted name in Comfort.


---